Feb. 2, 2023, 6:54 p.m.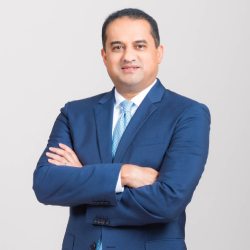 Dr Sheriff M Sahadulla
Dr Sheriff M Sahadulla, Group CEO at KIMSHEALTH, speaks about Health at Home services, its benefits and advantages and plans for addition of new services.
What is Health at Home?
As the name suggests, Health at Home is the home care services brand of KIMSHEALTH which is a prominent healthcare provider in the GCC having a chain of hospitals and medical centers in the GCC region. In Oman, we have KIMSHEALTH Hospital in Darsait, KIMSHEALTH Medical Center, Al Khuwair, and KIMSHEALTH Medical Complex, Duqm.
Health at Home provides patients the option to access healthcare in the comfort and convenience of their homes without compromising on the quality of care.
What are the services provided by Health at Home?
Our service ranges from:
Doctor visits, whereby our GP doctor visits the home, performs a medical assessment and consultation, may recommend tests and create a treatment plan, or alternatively refer the patient to the required specialist.
Nursing visits for monitoring patient's condition, injection administration, wound dressings, sample collection for blood investigations, tube feedings and catheter care.
Rehabilitation and Physiotherapy for patients recovering after surgery, stroke, trauma, COVID and other conditions.
Delivery and supply of consumable and medications. We also provide assistance in purchasing of medical devices like BP apparatus, Pulse oximeter, specialized beds and others, besides blood sample collections and ECHG at home.
are homecare services beneficial only for certain populations?
Our services cater to a cross section of patient population ranging from elders (who may need support to manage their chronic diabetes or hypertension) new mothers (needing guidance on caring for their newborn)or someone who may need physiotherapy at home for a knee or shoulder pain. Busy individuals who don't have time to visit health facility for rehabilitation or physiotherapy can also benefit from these services provided at home.
What are the benefits of home care services?
Besides safety, comfort and convenience for patients, home care services allow personalised care, faster recovery with less risk of hospital infections.